Gritty, Eccentric Author/Singer/CEO Brings Fresh New Voice to the Literary Scene
(NewsUSA)

-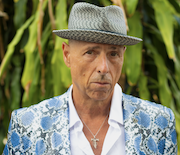 Patrick Girondi is not your typical author. Actually, he's not your typical individual. A high school dropout originally from the South Side of Chicago, he is an Italian and American singer-songwriter, author, and pharmaceutical CEO. He has released seven music albums, written several books including a Wall Street Journal #1 bestseller, has won countless awards, been a guest on Oprah, and has battled toe to toe with big pharma to defend his small but ground-breaking gene therapy company focused on bringing a safe and accessible cure to Sickle Cell Disease and Thalassemia patients.
He is entertaining and eccentric, does not do things the conventional way, wears his emotions on his sleeve, is articulate and observant about the world around him, and brings a raw and real brand of writing to the literary world with stories that mirror his journey.
Girondi made his mark on the literary landscape with FLIGHT OF THE RONDONE, released in May 2022, a true rags-to-riches tale the New York Times stated is "meant for television." In this real-life tale, Girondi starts his career shining shoes, stealing car parts, and escaping life-threatening situations while outwitting the Chicago police. He claws up to being a famous success story on the Oprah Show. But his fortunes quickly change when his eldest son, Santino, is diagnosed with a fatal blood disease. Girondi hunts for a cure in a drama that has boundless implications in the world of gene therapy. 
As Girondi writes, "I'd been strangled, shot at, skated more than twenty arrests, made it through three FBI witch hunts and went from the docks to trading and big money. I would see my son cured. How hard could it be?"
After decades of struggle, as CEO of San Rocco Therapeutics, he delivers the world's first commercial batch of vector with the potential to cure Sickle Cell Disease and Thalassemia. But the success of the cure is imperiled in a world of lab jackets, mysterious deaths, and cut-throat Wall Street banksters.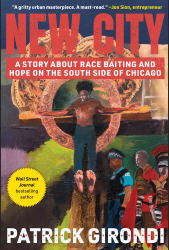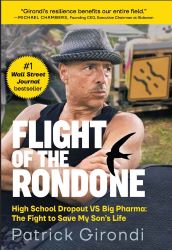 His most recent release, NEW CITY, is a story about race baiting and hope on the South Side of Chicago. The protagonist, Danny, grew up in New City, home of what was once the world's largest slaughterhouse, the Chicago Stockyards. After his wife's infidelity, he steps out of what the US calls the "white man's" world. 
New City becomes the target of gentrification. Danny owes over $100,000 in taxes and fines on his house worth no more than $10,000. He knows it's just a matter of time before he's living on the streets or worse.
A prolific writer and innovator, Girondi has three more books around the corner, all written in his gritty, pull-no-punches style: FADED GENES: Searching for a Cure and Finding Home in Altamura, Italy; CHIVALRY; and BLIND FAITH. All of his titles explore the themes of companionship, loyalty, brotherhood, and community.
Musically, Patrick Girondi & the Orphan's Dream band published its first CD, 'Orphan's Soul' in 2004. All of the albums are about Orphan Disease (Rare Disease) and how it has affected  Patrick's life. The fifth album, "Orphan's Return," was released days before the culmination of Girondi's five-year pharmaceutical court battle. 
Some have compared him to Saul Bellow or Studs Terkel, steep praise indeed. For a talented and unconventional new voice with poignant characters, meanings and messages, experience the books of Patrick Girondi. Learn more at patrickgirondi.com.